First, thanks to everyone who stopped by our space at the Up Your Alley Street Fair this past July 31, and for your kind words and understanding.  It is extremely unfortunate that the timing of this latest wave of Monkeypox made it impossible for us to open up the Piss Pool this year.
I particularly appreciate the valiant efforts of our  dedicated volunteers Rich and Pattie (of Arizona's "House of Black Dragon"), who made the trip here for us, and worked so hard to make our favorite fantasy a reality.
I have confidence that, barring some new biological or ecological disaster, the Piss Pool will be open for your use at the Folsom Street Fair on September 25, 2022.  Please get vaccinated as soon as possible, and visit us then.
For reference, the rest of this page is what might have been….
---
The infamous Piss Pool: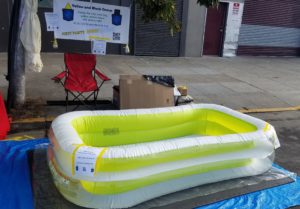 Look for the big "Yellow and Black Group" banner, and a sign reading something like this:
Yellow and Black Group
Piss Pool Rules:
Anyone can climb in, dressed any way they want.
Climbing in = consent to be pissed on.
Photo-shy?  Loaner hoods are available.
Pee-shy?  Take your time; piss pigs are very patient.
Not used to standing up?  Ask for a disposable "female urination device".
Please limit your time in the pool to one hour at a stretch.
Keep the piss in the pool and off the street.
We discourage body contact during piss play (i.e. no "sex", please).
No shit.
Have fun!
Climbing in or pissing is free, of course!
Taking pictures?  Please donate $1 per picture.
Taking video?  Be generous!
If you are not yet clear on just what to expect, maybe a few pictures from prior years will clarify things.
See you there, folks!