I am pleased to announce that, thanks to dedicated volunteers Rich and Pattie (of Arizona's "House of Black Dragon"), who are taking the reins this year, the Yellow and Black Group will once again offer its infamous Piss Pool at the "Up Your Alley" Street Fair on July 27, 2019.
You will find it on 10th Street, between Howard and Folsom, just south of the 15 Association space.  (Check out the Exhibitor's Map).  Look for something like this: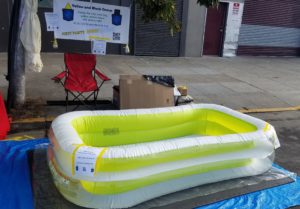 And look for the big "Yellow and Black Group" banner, and a smaller sign that will probably read something like this:
Yellow and Black Group
Piss Pool Rules:
Anyone can climb in, dressed any way they want.
Climbing in = consent to be pissed on.
Photo-shy?  Loaner hoods are available.
Pee-shy?  Take your time; piss pigs are very patient.
Not used to standing up?  Ask for a disposable "female urination device".
Please limit your time in the pool to one hour at a stretch.
Keep the piss in the pool and off the street.
We discourage body contact during piss play (i.e. no "sex", please).
No shit.
Have fun!
Climbing in or pissing is free, of course!
Taking pictures?  Please donate $1 per picture.
Taking video?  Be generous!
If you want to help out with the setup, cleanup or other mundane details, drop me an email (or contact Pattie if you use FetLife).  But the main way we want you to help out is by (a) participating and (b) getting others to participate!
So be sure to find us before you waste time standing in line at some porta-potty.  And return as often as necessary — we'll be there until at least 5:30 (depending on weather and other unpredictable factors).
And tell your friends, too!  In fact, tell anyone you see waiting for a portapotty with a beer in their hand!
Finally, of course, please plan to "climb on in" and enjoy!
If you are not yet clear on just what to expect, maybe a few pictures from our Folsom Street Pool will clarify things.
See you there, folks!