The Yellow and Black Group hosted a munch (discussion/networking meetup) on Friday, July 27, 2018, at Wicked Grounds Kink Cafe, 289 8th Street (just North of Folsom), in San Francisco.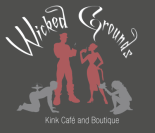 Our goal, among other things, was to reach out beyond the kinky gay men's community and see if there was interest in arranging an all-gender watersports play party.
Attendance was good, and the conversation was very interesting and productive.   Discussion will continue — primarily on Fetlife — but please feel free to write to me with your input, thoughts, opinions, or to offer to help!
And of course, we hope to schedule another munch soon.  Look for info on that here, or on Fetlife.  Anyone interested in the topic and age 18+, regardless of gender identity or orientation, will be welcome to attend.
As always with events at Wicked Grounds, there will be no charge to attend, but you are urged to support and patronize this unique and valuable community institution.  And, just to belabor the obvious… the event will be held in a food establishment, so there will be no activity, and you have to keep your feet, butthole, and genitals covered.
Hope to see you there.